The beginning of September saw the Euromicro Conference on Digital System Design take place online. SocketSense was virtually there and participated in the event with KTH's work on sensors. More specifically, the complete title of the presentation was "Evaluation of Time Series Clustering on Embedded Sensor Platform" and was given by Wenyao Zhu and Zhonghai Lu on September 3rd. The time has come that the proceedings of the DSD conference are available online. Through the proceedings, anyone interested in digital and mixed HW/SW system engineering can go through the different cutting edge technologies and innovations and acquire knowledge on various current developments in various industry areas.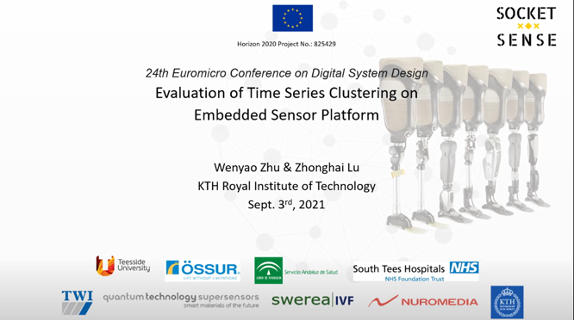 For a more insightful look at DSD 2021, Wenyao Zhu from KTH Royal Institute of Technology in Stockholm shared his personal experience about the conference, "It was our pleasure to attend the DSD conference. We have heard interesting keynotes such as the DQNN for in-sensor computing and also joined other workshops and presentation sessions. We were glad to present in the Application Session on Sept. 3rd about our work as a part of the SocketSense project and get feedback from other researchers, which was very helpful to improve our work in the future."
Our project plans are to achieve greater SocketSense exposure and participate in fruitful discussions as to further develop advanced sensor-based socket systems and improve the quality of life.
📰 The conference proceedings are accessible through the link below, so feel free to check out our SocketSense work and the wealth of topics from this year's DSD 2021!
https://ieeexplore.ieee.org/xpl/conhome/9556315/proceeding
📰 For direct access to our SocketSense publication:
https://ieeexplore.ieee.org/document/9556364
📰 For extra information on the event, visit the conference's website.