Inventing the Future
Printing electronics enables the production of innovative flexible components that are ultrathin, lightweight, robust and economical to manufacture. Printed electronics combined with more environmentally friendly smarter materials is the key to manufacturing electronic components of the future that will allow societal needs to be resolved whilst simultaneously addressing climate change issues.
Current electronic assemblies currently contain many elements known to cause issues with human health and damage the environment. Over recent years there has been a massive shift of public awareness regarding the need to improve this and to consider these issues during the production and use of new devices required to address societal needs. The recent UN Climate Change Conference (COP26) held in Glasgow, UK reinforced the pressing need to reduce environmental impact and drive solutions needed to slow climate change.
The Organic and Printed Electronics Association, which is the leading international industry association for the emerging technology of organic and printed electronics, references the Brundtland Report 1987 where sustainable development is defined as 'development that meets the needs of the present without compromising the ability of future generations to meet their own needs'1. QTSS™ materials used within the SocketSense project are patented Quantum Materials based on enviro-friendly natural Magnetite developed to enable flexible printed electronic sensors to be made more environmentally friendly. Magnetite is an abundant and very green material and easy to identify for recovery and recycling in a Large Area Electronics circular economy. Quantum Materials that harness 'natures' quantum conduction mechanisms also have the added benefit of 'energy efficiency' during use.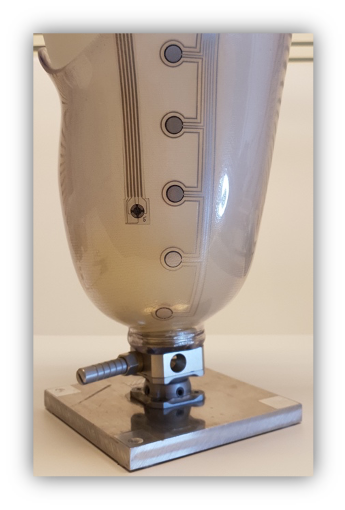 Innovative flexible QTSS™ pressure, shear & loss of friction printed sensors:

Lightweight, thin, flexible, more enviro-friendly, printed QTSS™ sensors.
Ultra-Light
Monitor whilst remaining unobtrusive.
Flexible
Ideal for curved and non-straight surfaces.
Ultra-Thin
Seamless integration into application surface without changing surface shape or thickness.
Cost-effective
Simple and cost-effective to manufacture.
More Enviro-Friendly & Energy Efficient
QTSS™ Quantum Materials are based on Magnetite – a very 'green' material & harness 'energy efficient' Quantum Conduction mechanisms.

1 World Commission on Environment and Development. Our Common Future (the Brundtland Report) (October 1987) Oxford University Press, Oxford, UK ISBN 10: 019282080X ISBN 13: 9780192820808 – page 8